If you want to become a Personal Trainer, let us help you achieve your dream and start you on your career in health and fitness NOW!
36
Days
18
Hours
38
Minutes
42
Join now/until Nov 1st and save £250
This is a nationally accepted qualification, validated by Focus Awards, recognised by OFQUAL and CIMSPA. It is also registered with the Association of Independent Personal Trainers.
At our prestigious training institution, we specialise in equipping aspiring personal trainers with the exceptional practical skills they need to launch a successful career in the fitness industry. Our Level 3 qualification programme embodies the essence of quality first, professionalism, and a commitment to excellence.
Exceptional Practical Training
We understand that practical knowledge is the cornerstone of becoming an outstanding personal trainer. Our curriculum is carefully designed to provide hands-on, real-world experience that sets you up for success from day one.
Seasoned Expertise
Our program is led by a team of three experienced coaches with a combined industry experience of over half a century. You can trust that you are learning from the best in the business, who have seen and done it all.
Private Small Group Personal Training Studio
We boast a state-of-the-art private personal training studio that has been in operation for over 15 years. This means you'll have access to a professional environment with top-notch equipment and resources for your training.
Thousands of Client Contact Hours
Our trainers have accumulated thousands of client contact hours, giving you the opportunity to learn from real-world scenarios and gain insights into what it takes to excel in the fitness industry.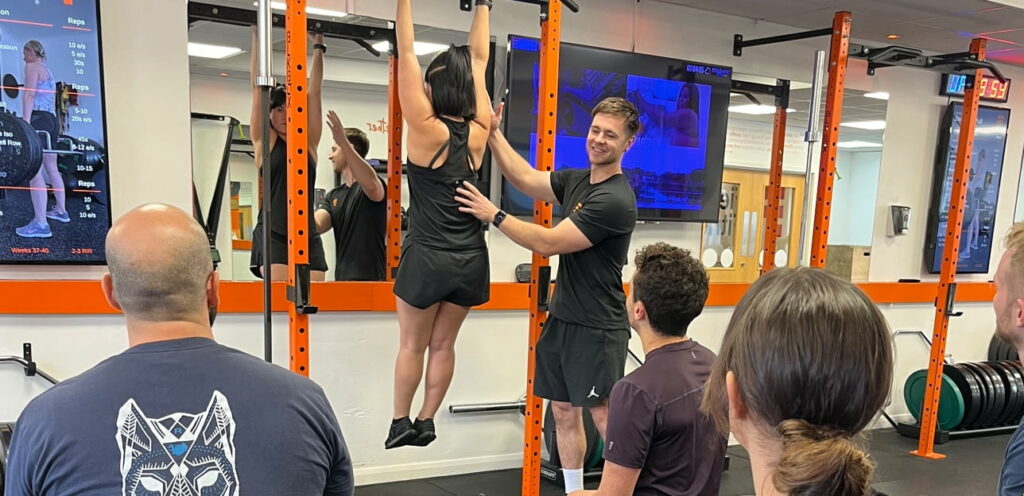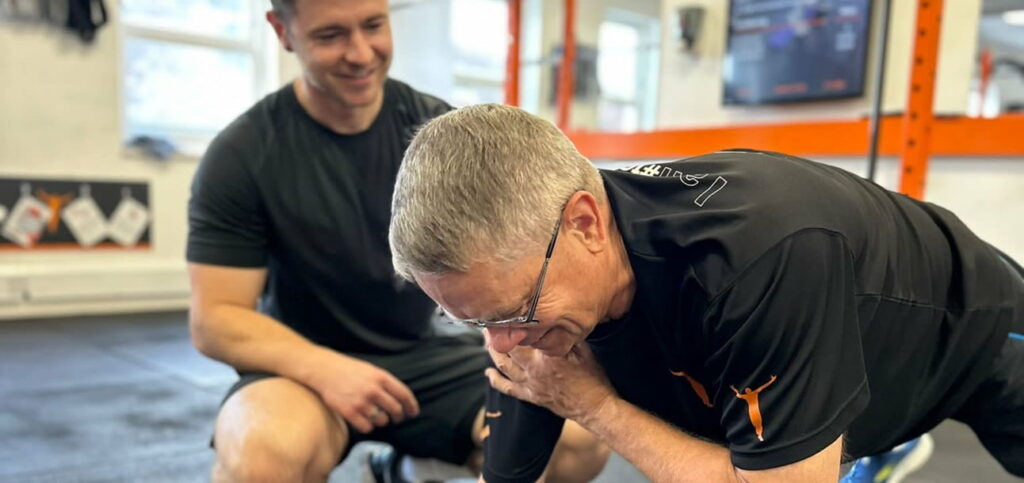 Why start a career as a Personal Trainer?
A career in personal training offers a multitude of benefits, making it an attractive choice for those passionate about fitness and helping others achieve their health goals. Here are some key advantages:
1. Passion Meets Profession
Personal trainers have the privilege of turning their passion for fitness into a fulfilling career. You get to do what you love while helping others lead healthier lives.
2. Job Satisfaction
Witnessing your clients' progress and transformation is incredibly rewarding. Personal trainers play a pivotal role in improving their clients' physical and mental well-being, leading to a strong sense of job satisfaction.
3. Varied Work Environment
Personal trainers can work in various settings, from gyms and fitness studios to private homes, outdoor spaces, or even online. This diversity keeps the job fresh and exciting.
4. Steady Demand
As people are now becoming much more health-conscious, the demand for personal trainers remains high. Many individuals seek professional guidance to achieve their fitness goals safely and effectively.

5. Career Growth Opportunities
Personal trainers can pursue specialised certifications and further education, expanding their expertise and earning potential. They can also explore avenues like fitness management, nutrition coaching, or small group training instruction.
6. Financial Rewards
Successful personal trainers often have the opportunity to earn a competitive income, especially if they build a strong client base and reputation. You can also increase your earnings by offering group classes or online coaching. The route of employment now also offers competitive salaries and more and more independent operators recognise the huge value in quality, passionate, dedicated employees, and will remunerate appropriately, with lots of benefits.
7. Healthy Lifestyle
Personal trainers tend to lead healthy lifestyles themselves, as they are constantly immersed in fitness and nutrition knowledge. This career can inspire you to maintain your own well-being.
8. Independence
Many personal trainers work independently or as freelancers, allowing them to be their own boss and make decisions about their business. This independence can be empowering.
9. Personal Growth
Along with helping clients, personal trainers often experience personal growth. You'll learn valuable communication, coaching, and leadership skills that can be applied in various aspects of life.
In summary, a career in personal training offers not only the opportunity to make a positive impact on others but also a range of personal and professional benefits, making it a rewarding and fulfilling path for fitness enthusiasts.
Why Choose Our Level 3 Qualification?
Industry Recognition
This is a nationally accepted qualification, validated by Focus Awards, recognised by OFQUAL and CIMSPA. It is also registered with the Association of Independent Personal Trainers.
This Level 3 qualification is highly regarded in the fitness industry, opening doors to a wide range of career opportunities.
Practical Skills
We focus on practical skills that enable you to hit the ground running as a personal trainer.
Networking Opportunities
Our extensive industry connections can help you establish valuable contacts and kickstart your career.
Supportive Community
Join a community of like-minded individuals who are passionate about fitness and personal training.
Spend time with the FOF experienced Coaching team
You can shadow our Coaches while they do their day job, take notes, gain valuable insight in to the skills needed to communicate with a diverse membership and witness first hand how to effectively deliver a professional, engaging, educational session. This is 'real time gold' actual true workings of what your career will involve.
Intern programme
We are always looking for new coaches to join our established team, across our multiple locations. We provide you with the platform to showcase your skills and then provide ongoing development and in some cases full time employment.
If you're ready to take your first steps towards a rewarding career in personal training, choose our Level 3 qualification. We're here to guide you on your journey to becoming a successful and respected fitness professional.
36
Days
18
Hours
38
Minutes
41
Join now/until Nov 1st and save £250
Click here to take the next step to a new fantastic career
1. What sets your Level 3 qualification apart from other programs?
Our Level 3 qualification stands out due to its emphasis on practical training. We prioritize hands-on experience, ensuring you're ready to excel in real-world fitness settings. Our experienced coaches and private studio provide an unmatched learning environment.
2. How does the combined industry experience of your coaching team benefit students?
Our coaching team brings over half a century of industry expertise to the table. This translates to invaluable insights, real-world scenarios, and mentorship that you won't find elsewhere, giving you a competitive edge in your fitness career.
3. Can you explain the significance of your private personal training studio?
Our studio, operational for over 15 years, is a testament to our commitment to excellence. It provides students with an exclusive space to practice, learn, and refine their skills in a professional setting, mirroring what they'll encounter in their careers.
4. How does the quantity of client contact hours benefit students?
Our trainers' extensive client contact hours mean you'll gain exposure to diverse fitness challenges and client needs. This prepares you to adapt and excel in any training situation, making you a versatile and sought-after personal trainer.
5. What career advantages does your Level 3 qualification offer?
Our qualification is highly respected in the fitness industry. Graduates not only receive industry recognition but also access to our extensive network of contacts. This network, combined with our practical focus, gives you a significant advantage in securing rewarding fitness career opportunities.