Field of Fitness Golf Day 2015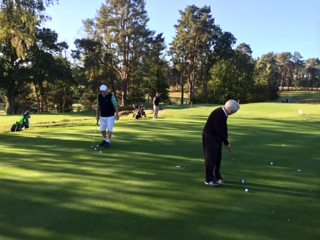 A crisp sunny Autumn morning in October saw 30 clients and guests take part in the 4th Field of Fitness annual golf day at Worplesdon Golf Club. After a bacon buttie, a cup of something hot and the usual golfing banter it was off to the 1st tee for another fantastic FOF social event.
10 teams of three took part in the FOF trophy this year with the usual nearest the pin and longest drive tests along the way. The course didn't disappoint, fantastic fairways and glorious greens provided the teams with first class conditions.
After an enjoyable 18 holes the group sat down to a sumptuous 3 course lunch and presentation of prizes.  The main trophy going to the victorious  FitBoys team, congratulations on a superb 85 point winning stabelford score.
Results:
Winning team – The FitBoys – Steve Day, Martin McCarthy and David Primrose
Individual Winner – David Primrose
Nearest Pin 4th – David Primrose
Nearest Pin 10th – Olly Melcio
Longest Drive Men – David Primrose
Longest Drive Women – Maxine Edwards
Once again this fun, relaxed event ticked all the right golfing boxes – superb company, great course, lovely food and some not so bad golf too. Looking forward to the FOF trophy 2016 and the challenge of another great Surrey course.
If you would like to play in our FOF trophy please contact the studio to register your interest.