Jon Field's pushes himself all the way at Vichy Ironman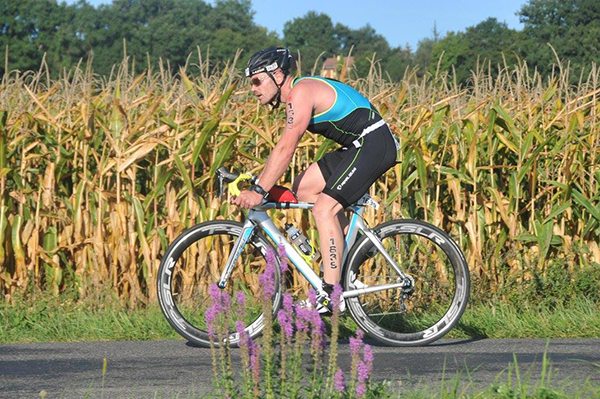 Jon Field took his IronMan training to a whole new level – but nothing quite prepared him for the trials on the day!
Event report:
Name: Jon Field, Training Director
What was the event: Ironman 70.3
When and where was it: Vichy, France – August 29th 2015
What did you specifically have to do?
The 70.3 miles (113km) is broken down as 1.2 mile (1.9km) swim / 56 miles (90km) cycle and 13.1 mile (21.1km) run.
How did you get on?
My event was a success, I finished it! However, it left me wanting more – I know I could have done better.
Swim – 39 mins
Cycle – 3 hrs 7 mins
Run – 2 hrs 34 mins
Total – 6 hrs 34 mins
The swim went well doing almost my best time, even while getting punched in the face! The cycle started with a disaster – they had officially lost my transition bags therefore having no cycle kit for almost 10 mins. Once I got on the bike I hadn't realized my gels had fallen off – this left me with no nutrition for nearly 2 hours. Started the run and then got cramp after about 10k therefore shuffling my way through the last 10k, in 35 degrees of heat – at least I got a good tan!
What was the best part about the whole experience?
Just finishing. Honestly – once the run started to fall apart all I could do was focus on getting through at any cost. And I did.
What was the worst?
Losing my gels and nutrition on the bike – I knew I was heading for trouble after that. Oh, and putting my bike together in the hotel the night before – what a fiasco!
What did you, personally, get out of doing the event?
After spinal surgery following a rugby accident I decided to get myself back to full fitness pre operation and there is no better way than to set yourself a goal / target. Mine was to complete a 70.3 iron man with a further goal to complete the whole one the following year.
I am a strong believer that anyone can do anything, and it's simply down to the mind. You have to be honest with yourself. You have to commit to achieve.
What next?
I'm definitely doing it again next year – though not necessarily in Vichy. Watch this space!
How much did you raise, and for which charity?
£2026 for Shooting Star Chase