Emma nails it along with her 70 year old father-in-law!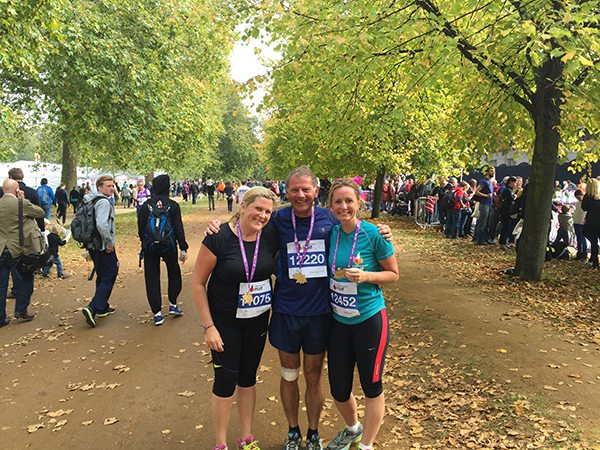 Emma Hyner successfully completed the Royal Parks Half Marathon alongside her Father-in-law and Sister-in-law, making it a real family event.
Event report:
Name: Emma Hyner
Other team members?: My father in law and sister in law
What was the event?: Royal Parks Half Marathon
When and where was it?
Sun 11 Oct in and around Hyde Park, St James' Park, Kensington Gardens and Green Park
What did you specifically have to do?
Run 13.1 miles
Why did you decide to do it?
To celebrate my father-in-law's 70th birthday (he is super fit – it was more of a challenge for me and my sister in law!)
How did you get on?
2 hours 20 minutes for me and my father-in-law
How did your training at Field of Fitness help you prepare for this event?
Massively. I am not a runner and save for one 10k in 2006 haven't done any running since school! Claire and Olly helped with training plan, nutritional help running up to and on race day and running strength training and of course lots of encouragement!
What was the best part about the whole experience?
Running with my family in a beautiful surrounding
What was the worst?
My left knee pain from mile 10!
What did you, personally, get out of doing the event?
Realising that despite being a busy working mum with the right support I could fit a big challenge into my hectic schedule which, given all the support from Claire and Olly, was actually quite fun despite my initial apprehension
What next?
I will probably carry on running and maybe try another race soon. No commitment at this stage though!