Nancy swims-bikes-runs the London Triathlon!!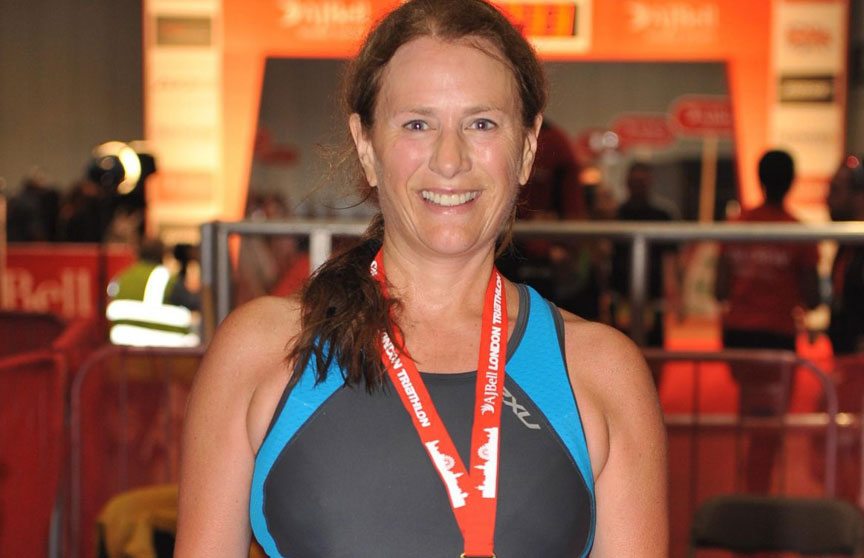 Event report:
Your name:
Nancy
Other team members:
I had the pleasure of doing the event with my sister from Canada who was visiting. It was a treat for me as I usually seem to do these things solo!
What was the event?:
It was the London Triathlon; Olympic Distance
When and where was it?
London – setting off from The Docklands, Sunday 7th August.
What did you specifically have to do?
We had to swim 1.5KM, bike 40KM and run 10KM
Why did you decide to do it?
I " force" myself to take on at least one "scary" physical event a year to challenge myself. I was searching for an Olympic distance triathlon event to do and my sister and I wanted to do one together when she was visiting in August so the London Triathlon looked ideal.
How did you get on?
We both finished! (which is the main thing) I did it in 3.21 hours in all; 37 minutes swim, 1:27 bike and 1:03 run. I was very happy with my overall time though did have a 5 minute "break" during the bike section to discuss the bike route with an official and took far too long in the transitions!
How did your training at Field of Fitness help you prepare for this event?
Jon and the whole team were incredible helpful and supportive. Jon kept me to my training plan and helped me with my mobility and strength, whilst Georgie and Dan were essential to my muscle and skeletal support through sports massage! I also had plantar fasciitis to contend with, and they helped me with that too.
What was the best part about the whole experience?
A huge feeling of accomplishment at the end, and getting to share it with my sister. Both of us have overcome significant health issues the past several years and we are so grateful to be feeling fit and well.
What was the worst?
Having to jump into the cold, dark River Thames at 6:30am!
What did you, personally, get out of doing the event?
A big confidence boost and real pride in my accomplishment
What next?
Am hoping to do a 3 mile swim race in Canada called the Three Island Race in Lake of the Woods, Ontario wth my sister!